Testimonials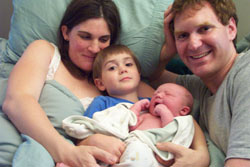 "Several weeks into my second pregnancy, my husband and I found Diane. Instantly I knew that she was one of the very few people that I wanted to have at the birth of my second child.
Diane is a very caring and compassionate woman who has the gift of listening and truly understanding the individual needs of her clients. My husband and I were impressed by her vast knowledge of pregnancy, birth, and lactation support. We felt very comfortable in her care throughout the pregnancy and in the remaining time before our second son was born, she helped me trust that my second labor would not be a repeat of the previous one.
Once the contractions began Diane arrived within minutes of my husband calling her, sometime before 5am. Throughout the day her belief and support were what kept me going. Just as I was about ready to give up, believing that it would go on for ever, our second son was born in a birthing tub, in our bedroom. I felt so triumphant! I had overcome the biggest and most frightening hurdle of my life.
Although she had to have been exhausted, Diane made sure I was comfortable and that breastfeeding had been well established before leaving sometime after 11pm. Over the next several days Diane checked in with us over the telephone and by making home visits. It is a wonderful gift to be able to discuss your proudest moment with another woman who has not only shared it, but who truly understands how momentous it is to move past such a tremendous fear.
When I became pregnant for the third time, I was relieved not to have to interview midwives again. I knew who I wanted. Although this pregnancy has had its own set of surprises, Diane is still here supporting my decisions. At 24 weeks pregnant, we realized that I was having twins. Within a few days Diane helped us find a doctor who supported a "homebirth" model in a hospital. While I would love to have another birth at home with Diane, she will be with us as I give birth to our third and fourth children in the hospital.
I cannot imagine giving birth without my husband and children at my side - but neither can I imagine giving birth without Diane as my midwife. I am so grateful that she shares her incredible gift with other women. Most women in our society are not blessed with the kind of support and care that Diane naturally gives as a midwife. She has made such a difference in our lives and we thank her from the depths of our hearts."
JA and RA
May 2005
---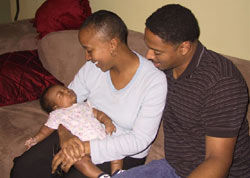 "When pregnant with our first child we knew we wanted to have him outside of the hospital. At the time we went to a birthing center where we were lucky enough to have Diane as our main midwife.
What we can say about Diane will not do justice to how she has touch our lives. She is a compassionate and dedicated midwife. She is extremely professional and yet easy to talk to. She is a wealth of knowledge to any one facing the many questions and challenges of parenthood. No matter what our question or situation, Diane took it to heart and gave us her ear, her answers and her time... as much time as we needed. If she was not readily available when we called, she would return our messages in an extremely timely manner. So much so that one time it had been fifteen minutes since I had left a message and I decided it was taking her so long to get back to me because she was attending a birth. Turns out, this was true!
She is honest and sincere in her approach and will do what is necessary to make sure both mom and baby come through healthy and happy. She did the majority of my pre-natal check ups. She was always gentle in her exams and made sure to include my husband in all parts of the prenatal care and labor that he wanted involvement in. During labor, she coached me through each contraction and helped me to relax every step of the way making the process much smoother. And with extreme focus, gentle hands and soothing voice, she delivered our son on December 10, 2004. It truly was a blessed experience.
Diane is also gifted in lactation consulting. She helped me transition my baby (who started out bottle feeding due to some difficulties unrelated to the birth) back to the breast after he was six weeks old and helped our family get through our emotional postpartum time which resulted from those complications.
Choosing to have our baby with a midwife changed our lives in so many good ways. We are so thankful to Diane for all of her hard work and dedication to our family that we have already decided to have our next child at home with Diane as our midwife."
MJ and WJ